Crowdsasuna is the result of the designing and implementation of two crowdfunding editions of projects which goal is problem resolution or needs in the health sector in the Basque country and have an open source license allowing its use and replication.

CHALLENGE: Involving citizens in health care

"Sociedad Efisaludable" (Innobasque)'s strategic line of action consists on boosting people's power in health, making them able and mobilising them, promoting the creation of formal and informal support and collaboration networks to achieve healthy lifestyle habits.
Its goal is to explore new ways of proposing, promoting and funding innovative healthy lifestyle initiatives. With that in mind, Innobasque approached ColaBoraBora, who managed at that moment the crowdfunding Goteo branch in the Basque country, to design and implement an experimental programme actively involving citizens. My role in this situation, as Head of Goteo Euskadi, was to manage the project, from the design to the implementation and impact analysis along with the client.

Concept

Crowdsasuna is a play on words, combining "crowdfunding" and "osasuna" (health in Basque). Crowdsasuna is the trademark launching two public crowdfunding calls for projects promoting a healthy lifestyle via a product, a service, new technology or an element to broadcast and raise awareness. The call is managed through a personalised web portal within the Goteo platform, where the projects get the solicited funding and can connect and interact with a whole community of co financiers and followers. The goal is for these new initiatives to involve and establish relationships with its users as well as its stakeholders during the early stages of the project to test its viability and get feedback.

Crowdsasuna is a play on words, combining "crowdfunding" and "osasuna" (health in Basque).
One of Crowdsasuna's characteristics is the co-responsible funding or matchfunding. Each project gets some private funding (by "La Caixa" foundation in this case) and the rest from the civil society (individual contributions). In exchange, each project releases its product or service for use or replication under an open source license.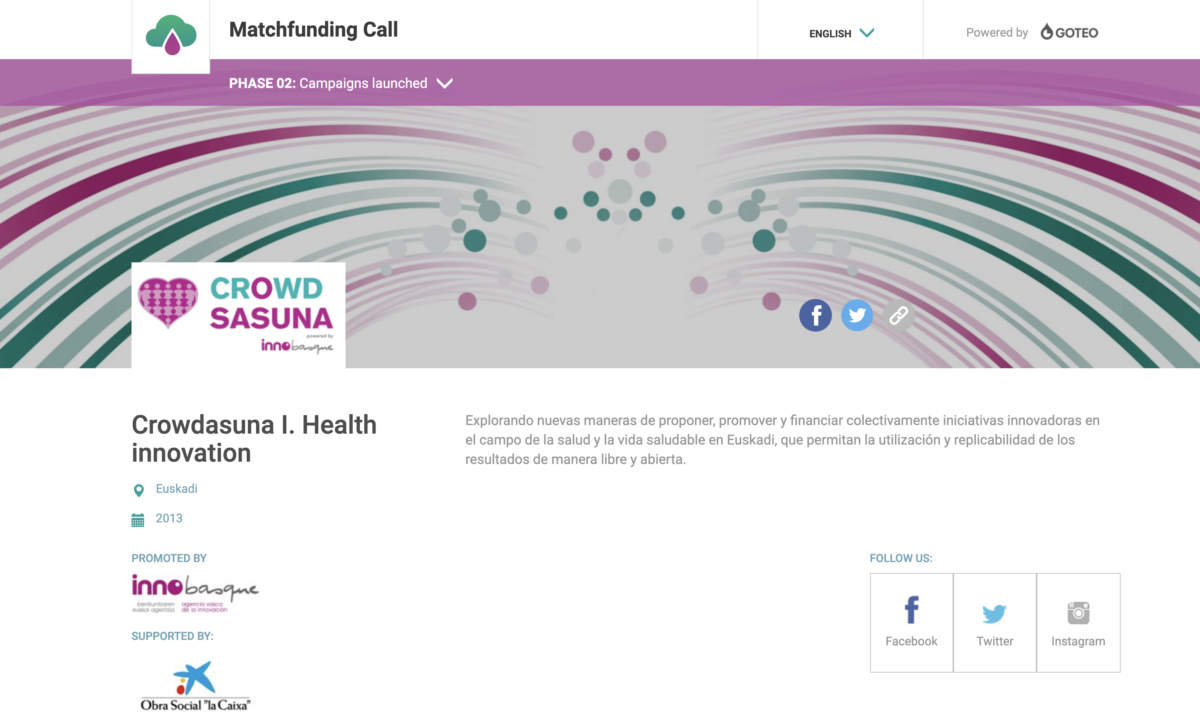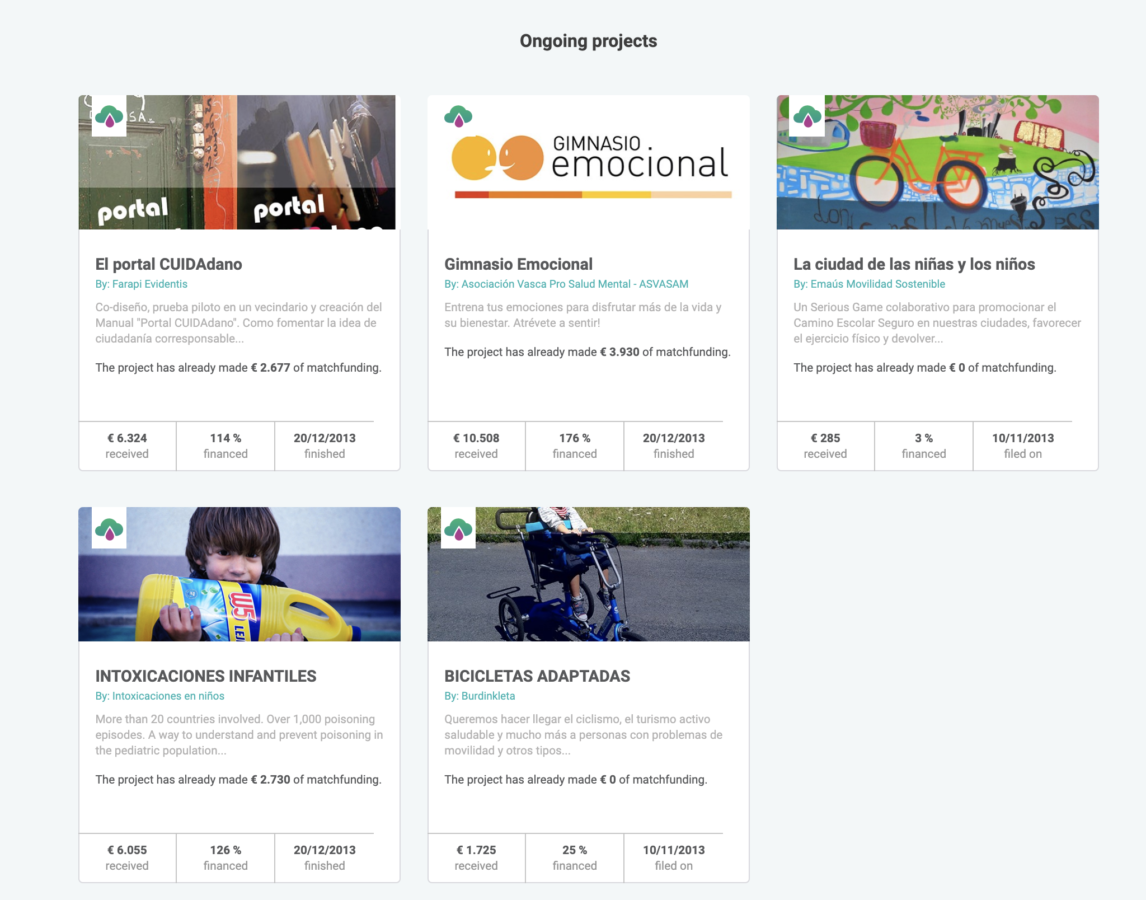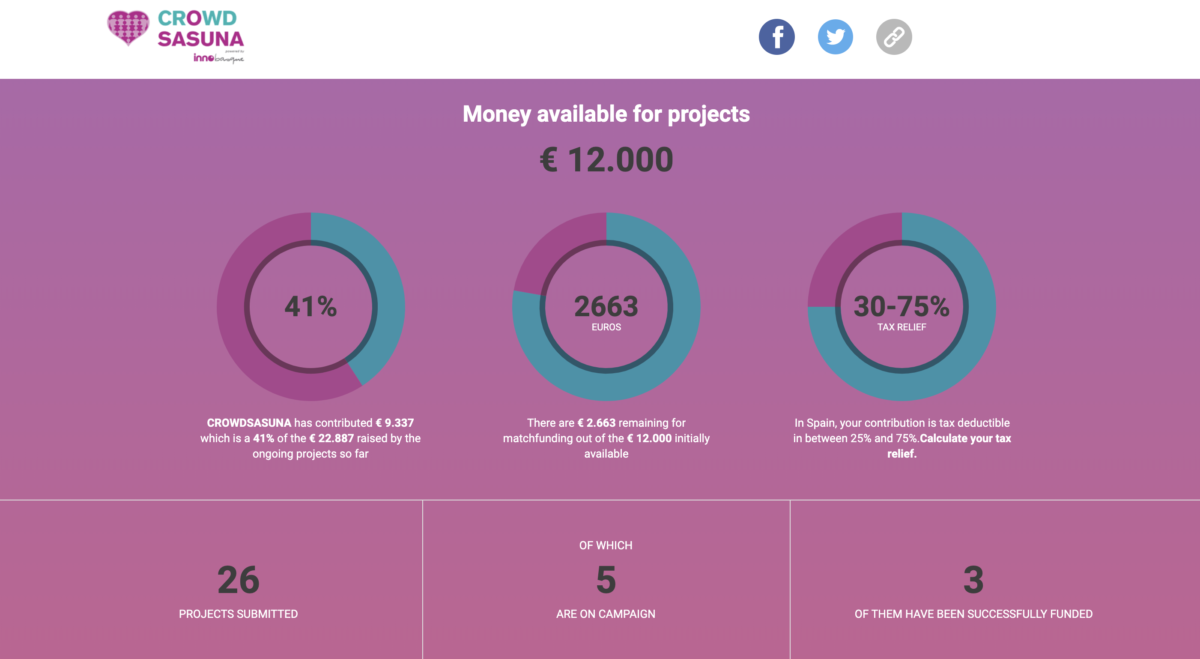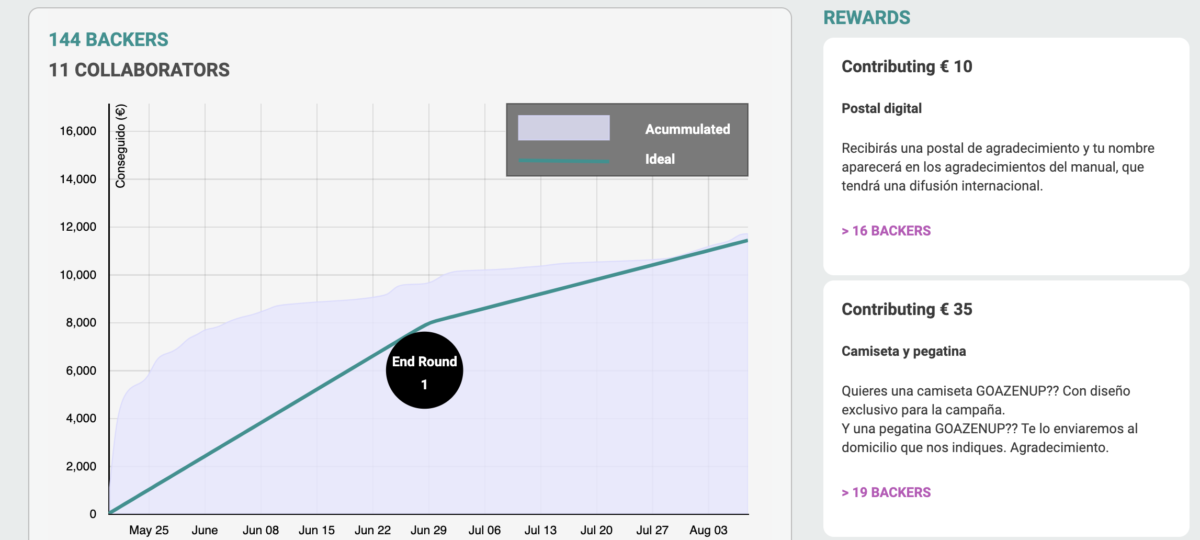 Process
The project was developed in three stages in the course of 8 months. The first was the research stage, when they identified a set of needs for chronic patients who were not being covered in the current HealthCare System. This facilitated the creation of categories for projects that worked around: healthy habits and conducts for a physical, mental and social well being, self care and personal autonomy, prevention, health assistance, active ageing, chronicity, or physical, intellectual or sensory disabilities. The second phase was the designing of all the parts involved to launch and manage the call. A detailed blueprint where they designed formative actions and online consulting for projects as well as a complete communications strategy. The last phase included the launch, projects selection, consulting and training, as well as full campaign management for 90 days.

During the whole process, a variety of digital channels were activated to keep the public informed.
Outcome

Taken from the funding data, the program raised about 60.000 euros and 85% of projects presented achieve or surpass their minimum income. But the greatest achievement is the involvement of a whole community of co financiers (approximately 800), stakeholders and interested citizens. Projects come to life and become a reality at the same time as they outline long-lasting impact learning such as directly connecting with users to test a product, develop a digital communications strategy or get investors attention.